Willow Workshop at Blacksmith Cottage - stake and strand willow basketry workshop 27 and 28/02/2019
SalixArts Willow Workshop
2 Day Basket Workshop
Wednesday 27th & Thursday 28th February 2019, 10am - 5pm, £165
A two day basket course making stake and strand baskets
Lea
rn how to make your own round stake and strand basket using locally grown organic willow in a range of rich colours. This in-depth two day workshop is suitable for beginners and improvers, and allows plenty of time

to really absorb techniques properly without rushing, to produce a lovely, useful sized shopper type basket with rod border and wrapped handle.

Those who have already made a round basket may wish to extend their skills with different side weaves and borders, and those with more experience (4+round baskets) may wish to complete a project of their choice. (I will need to know what you would like to make well in advance in order to soak the right sized willow)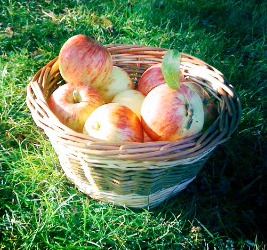 There may be a limited no. of places to do just Saturday or Sunday (£85 per day).
The small round basket without a handle shown here is the kind of result acheivable for a beginner in a day. Please get in touch with me if you are interested in this option.
Simple, yummy vegetarian lunches and refreshments are included in the price of £165, but willow is charged for at the end of the workshop depending on how much you actually use - to give you some idea, the materials cost for a medium / large shopper would be £7-£8
For more information or booking please contact Debbie on 07736952730, or

debs@salixarts.co.uk
For a more speedy (and thorough) response it's best to give me a ring. If you don't get through immediately please do leave a message - I will get back to you when I can.